Pain Is part of life, but
we can make it better

. Recover faster without surgery.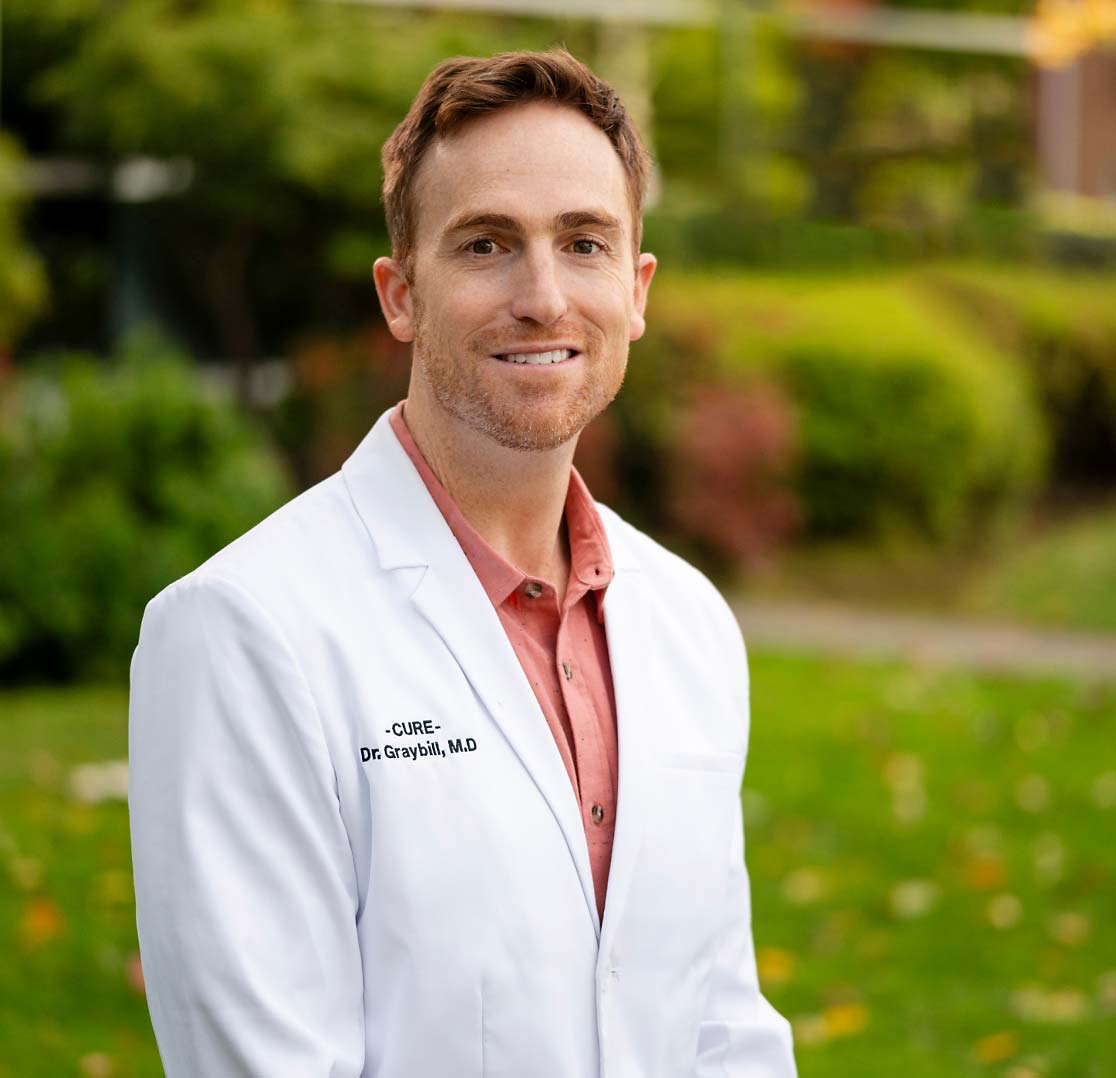 Find the personal care you deserve with Cure Spine & Sports Medicine.
Cure Spine & Sports Medicine offers cutting-edge industry diagnostics and treatments in Vancouver, Washington, and SW Washington. Our board-certified physician, Dr. Graybill, has the most current formal training in regenerative medicine, minimally invasive spinal procedures, surgery, and ketamine infusions.
At Cure, you are more than just a patient. You will work one-on-one with our doctor to create a treatment plan that fits your health goals.
For all patients, our goal is the same: restore function and control symptoms so that you can enjoy the activities you love doing.
Whether it's going further than the ninth hole, gardening with ease, or being able to pick up your grandchild, Cure Spine & Sports Medicine will be there to help you get back to your active lifestyle.
Ready to start feeling better?
Each patient is different, and so is their pain. That's why we focus on the whole recovery process and build a unique treatment plan for you for a faster, better recovery. Let's get you back to doing what you love.
Read what our past and current patients say about our clinic and staff.
The office, and staff are among the vest I have ever dealt with. To find staff that actually looks at your eyes when they speak with you is rare! You may be a chart number at most places, here they know your name, and understand just by looking at you how you are feeling, and dealing with things.
I've had multiple doctors in pain management, and Dr. Graybill is by far the most competent I've had. He makes a point to care for the patient as an individual, careful not to overtreat or undertreat their symptoms. Rather than just giving you treatment and sending you out the door, he helps you figure out how to minimize your pain as it pertains to your lifestyle.
Dr.Graybill is amazing! I wouldn't want anyone else treating me for my issues. He takes the time for you, he listens to you and he works for the best treatment for you.
I felt seen. Not that my usual doctor isn't attentive, but I have had some years of back and forth pain and no answers. They were very informational and helpful. Not just from the doctor but from staff as well.
The staff was very friendly and helpful. Dr Graybill made me feel comfortable and explained everything that I need for a painless future. I'm looking forward to going back.
Dr. Graybill and his staff are all so wonderful. He takes the time to listen to his patients thoroughly and explains things in detail. Unlike many doctors I've met, he actually works with you to find an acceptable treatment plan.